The Multiplier Event at the Shakespeare Birthplace Trust took place at the Shakespeare Centre in Stratford-upon-Avon on April 5, 2019. Participants from the UK and from other EU countries came together to engage with and discuss the CultureShake project methods and activities. It was particularly great to see how much interest there was from UK teachers in making literature teaching more inclusive and accessible to multilingual students in their classrooms.
We started the day sharing the underlying aims, objectives and methodologies of the CultureShake project with the participants, before discussing ways of approaching Shakespeare in the language learner classroom. The participants made good use of this session to share their experiences with each other, and to try out some exercises around identifying the emotional core and key scenes of a play.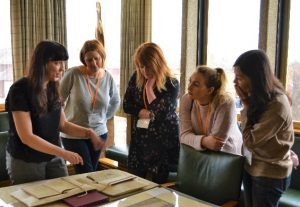 As our CultureShake students had also learned how to use archive materials to further inform their work on the online dictionary and the peer teaching resources, the multiplier event participants also got the chance to inspect materials from our archives that can be used in a classroom setting to illuminate teaching Shakespeare, for example, materials relating to the performance history of our focus plays that highlight the vast range of possible interpretations of character through costume design.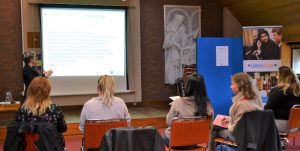 After lunch, we went on to discuss the intellectual outputs of the CultureShake project in more detail, in particular the online dictionary and the peer-teaching resources that the CultureShake students created during the learning activities in Germany, Stratford and Sweden. We finished the afternoon trying out some of the teaching activities around The Tempest that were developed for the method guide for teachers with the group. The many different versions of Prospero's spell the participants created were particularly illuminating, with hugely different approaches to rhyme, rhythm, imagery and language! According to the feedback, the participants of the multiplier event found the project approach to teaching Shakespeare in a multilingual setting inspiring and were keen to try them out in their own teaching environment.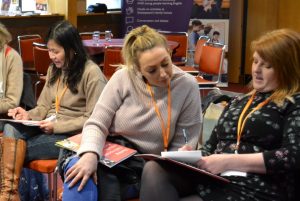 "Great experience! Provided new insights into intercultural and multilingual approaches that can be used in the modern classroom setting!" (Jo Baum, English Teacher, Christopher Whitehead Language College and Sixth Form)
"I learnt a lot that could be transferred to any group or play. Excited to try some of these with my learners." (Donna Blythe, Lead Teacher English, Waverley Studio College)
| Flyer | |
| --- | --- |
| Multiplier Programme | |
| Multiplier Presentation: Shakespeare in the Multilingual Classroom | |
| Worksheet | |